DAVx⁵
CalDAV/CardDAV Synchronization and Client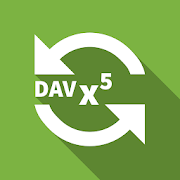 DAVx⁵ is a CalDAV/CardDAV management and synchronization app for Android which natively integrates with Android calendar/contact apps.
Use it with your own server or with a trusted hoster to keep your contacts, events and tasks under your control.
For more information and a list of tested servers/services, have a look at the Web site.
Hint:
This app is available in both, F-Droid Main and IzzyOnDroid repos. For details on this, please
see here
.
Packages
Version 4.3.11-ose (2023-11-20)
Android Versions:
Target: 13.0
MinVer: 7.0
ABIs: arm64-v8a,armeabi-v7a,x86,x86_64
Permissions:
75 Libraries detected:
Download (15.5 M)
Version 4.3.10-ose (2023-11-14)